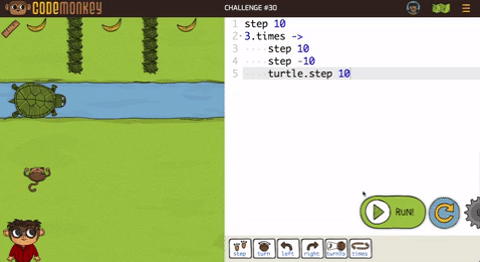 2. Offers More Than Entertainment Value
CodeMonkey is an engaging game-based platform that actually teaches beginners a real programming language. This is not an easy combination as such platforms are hard to find. For example, a search on YouTube for "learn how to code for beginners" leads to a list of tutorials that offers viewers an introduction to different coding languages and general tips.
However, they mainly serve to entertain, rather than educate. Users have to research and sort through a lot of content  before finding information that fully explains how to learn code.
3. Provides Immediate Feedback
A platform to learn code should be user-friendly so students feel motivated to follow-through and learn the increasingly indispensable skill of computer programming. CodeMonkey motivates students with its personalized hints and tips that provide users with immediate feedback on where they went wrong.
Without feedback, users need to go back and test every part of their code before they figure out which line is causing the error. For beginners, this can get discouraging to the point of giving up. Once students complete their code on CodeMonkey, the feedback system lets them know which line of code is causing the problem, saving users a lot of time and frustration.